By pastorbuhro on Oct 4, 2013 | In Events | Comments Off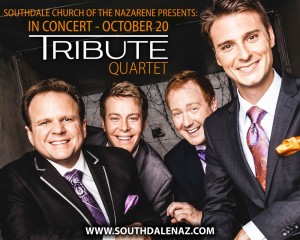 Southdale is pleased to welcome the Tribute Quartet back to Anderson for our annual Pastor Appreciation Concert and Dinner on Sunday, October 20,.  The concert will be during the 10:30 am worship service, and an all-church pitch-in dinner will follow the concert.
Tribute's love for southern gospel music is surpassed only by their love for Jesus Christ, and their heart for the Gospel shines through in their music and personality.  Whether it is the lead singer, Gary Castro's, heartwarming stories or the rich sense of humor of their baritone and piano player, Josh Singletary, you will fall in love with this group's ministry.
In 2008 they were  voted "The 2008 Horizon Group of the Year" by readers of the The Singing News Magazine at the National Quartet Convention in Louisville, just a few months after being named the SGN's "2008 Breakthrough Artist of the Year."  And the awards don't stop there.  Their song "Homecoming Day" won the 2013 Absolutely Gospel Music award for Best Song of the Year, and their single "Good News From Jerusalem" was #1 on Singing News' Southern Gospel chart for August 2013.