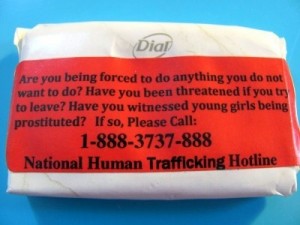 During the Super Bowl earlier this month, some Nazarene's weren't just watching the big game; they were working to put an end to human trafficking so prevalent during such large events.
Working with the group S.O.A.P. or Save Our Adolescents from Prostitution, Pastor Chad Current led a group of 109 volunteers from Nazarene churches around southwestern Ohio to Indianapolis.  They spoke to hotel officials, providing bars of soap labeled with the phone number for the National Human Trafficking Hotline to put into the hotel rooms, and informing desk clerks about how to recognize suspicious activity and whom to contact.
Young men and women forced into prostitution are under constant supervision.  Sometimes the only opportunity they have unsupervised is while using the restroom.  Putting information about how to get help on bars of soap gives them a way out.  After the Super Bowl last year in Dallas, 61 women called the hotline.  Volunteers hope this year even more will be reached.
Not only were 16,000 bars of soap distributed to rooms in 90 Indianapolis hotels, volunteers spoke with desk clerks.  One of them recognized a picture of a missing teenage girl.  After authorities were contacted, not only was she rescued, but she led them to two other adolescents who were also rescued.
Learn More About S.O.A.P. and their efforts to stop human trafficking: