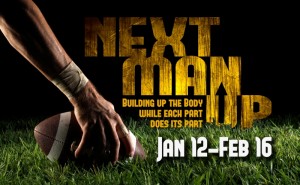 Things looked bleak for the Colts on Monday morning, October 21. The Colts had just chalked up a signature win, knocking off the undefeated Denver Broncos and their own former superstar, Peyton Manning. But the mood among Indy fans was more subdued. With 7:45 left in the fourth quarter, Reggie Wayne was stretching out to try to haul in an Andrew Luck pass, and in the process suffered a season ending knee injury.
Almost immediately the questions began. "What would the Colts do without Reggie?"
But the Colts had a plan all along. A simple philosophy summed up in three simple words: "Next man up."
Next man up means there are no superstars. Next man up means there are no mere benchwarmers. We are all a part of the team, and we each have a role to play. And the team moves forward, as each part does its work.
Join us on Sundays, January 12 – February 16, as we explore the ways the Next Man Up principle can make the difference in our church as we seek to live life for the Glory of God and the good of our world.